Take a Walk on the Wild Side
Posted in
Artist Inspiration
Last year I came across a new artist called Sharon Turner whose work I loved. I'm delighted that she has teamed up with Bothy Threads to bring her work to cross stitch for the first time. I asked Sharon if she had ever done any stitching herself and she says
 'I used to sew a lot, but rarely have the time anymore. When my daughter was very small, I cross stitched a huge cushion for my iron settle with geometric patterned stripes! I spent every spare minute doing it. I've always needed to be creative, even when busy with real life. Cross stitching is so relaxing and satisfying. It's such a thrill to know people will be sewing my art."
It was difficult deciding which of her animals to start with, but I chose the Leopard. It is such a dramatic piece and I love the colour and geometric shapes. At first I thought, even better…the design is symmetrical! In this case my work is halved because I can just chart half the design, copy, flip and paste. So, I charted the left side and tried to do this, but it didn't work at all. The two sides are subtly different and I had to go back to the drawing board aka the computer!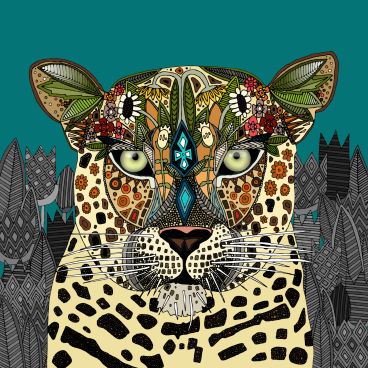 All this put me in mind of William Blake's poem-
'Tyger, Tyger burning bright,
In the forest of the night;
What immortal hand or eye,
Could frame thy fearful symmetry?
OK I know this first design is a Leopard, but she has got a tiger too which I might do later!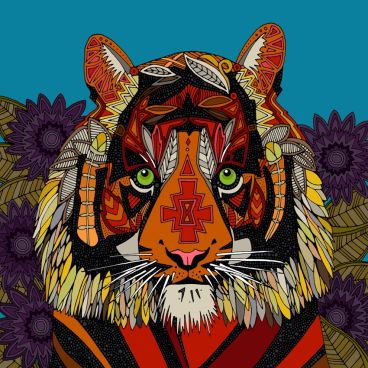 The other one that I am starting with is the Eagle. I love the contrasting areas of patterns and the beak and eyes are so mesmerising!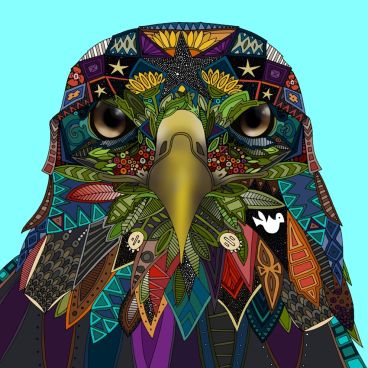 Take a look at Sharon's work
Happy Stitching!
Love Kate and Sharon x