My Craft Sanctuary
Posted in
Artist Inspiration
Over the last few years I have been increasingly working from home and I am only going into the Bothy at the weekends to work in splendid isolation!
I have finally converted a small spare bedroom into my very own craft room! I love it because it overlooks the garden and is warm and cosy. It's great having my own space because I can have all the objects that inspire me in there. I can get everything out that I need for a project …and even better, I don't have to tidy them all away at the end of the day.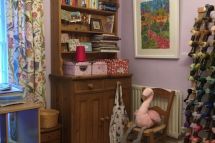 As you can see, I go for bright and colourful! I painted the walls purple and bought a psychedelic chandelier! I did have a big tidy up for these photos because I am not by nature a tidy person. I tell myself (and my ultra-tidy husband) that you can't be creative and tidy!.....is this true I ask myself???
Scientific studies have looked at creativity and untidiness. The most famous study is by an American professor called Kathleen Vohs. She had two groups of 48 people in two rooms. One room was messy, and one tidy. She asked them to come up with as many ideas as they could for different uses for ping pong balls. (Oh dear, disturbing images from the film 'The Adventures of Priscilla, Queen of the Desert' come to mind!) Anyway, it seems that the group in the two rooms came up with about the same number of ideas BUT the ideas from the messy room were far more creative.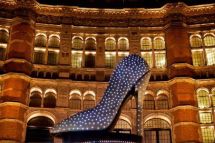 Like everyone else though, I do hate not being able to find something! I do have a few crates that I throw interesting threads and inspiring cards into. My favourite bit of organisation is my wool rack shown in the pictures above, where I have a skein of each colour to play with. I have a school report from when I was two years old, saying that I loved colour. Things don't change much do they?
So unleash your creativity…turn off that hoover, put the duster down and think ping-pong balls!
Love and happy stitching!
Kate x