Make do and mend!
Posted in
Artist Inspiration
Product News
I am just starting on this lovely picture by Margaret Sherry to turn into a cross stitch. It got me thinking about the relevance of this sentiment for our present times! The slogan actually comes from a 'Ministry Of Information' newsreel trailer from 1943. From June 1941 until 1949 buying of new clothes was rationed in Britain.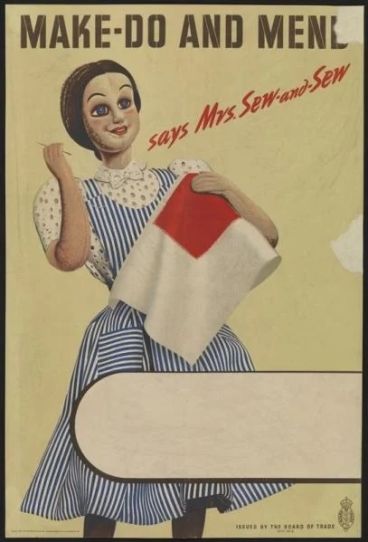 This is Mrs Sew and Sew who was apparently emblazoned across posters and starred in animation films promoting home sewing. People were urged to reimagine their wardrobes. There was a helpful pamphlet issued with tips on how to use 'decorative patches' to cover holes, how to unpick and re-knit chic alternatives and how to darn.
Silk was unavailable after late 1940 and cotton was in short supply so what did you use for your undies??? Some women used 'butter muslin' (used in food preparation and available off-ration). Old silk evening dresses became repurposed. By 1945 surplus silk 'escape maps' issued to Allied crew were sold off.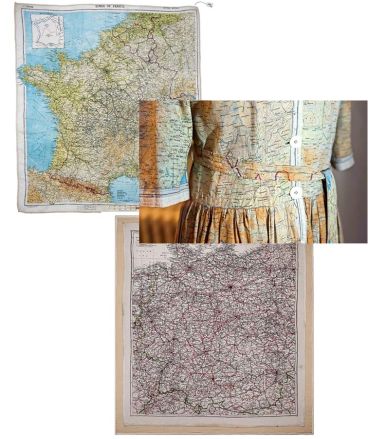 These silk maps were made en masse during WWII to help Prisoners of War escape. They were concealed in game boards, playing cards and shaving brush handles! If you visit the excellent 'Derwent Pencil Museum' in Keswick you will find out about how they manufactured special hollow pencils in which rolled maps, and even a miniscule compass, were hidden!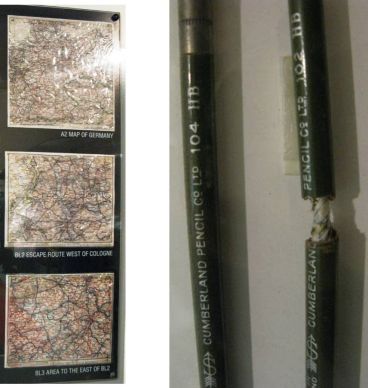 Getting back to fashion… we now have complete opposite attitude to clothes. 'Fast Fashion' means that clothes are designed and marketed for four fashion seasons meaning that as soon as we buy the latest look it is outmoded. Perfectly good clothes are being discarded amounting to 1 million tons of clothes in the UK alone. 10% of global carbon emissions are produced by the fashion industry.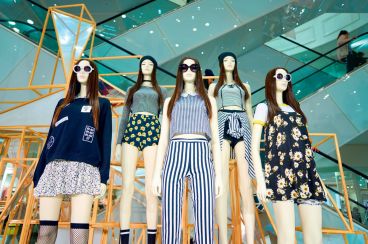 We are, thank goodness, finally realising the amount of damage this is doing to the environment and the workers involved. During Lockdown people have had less opportunity to go out and clothing sales have fallen 25%. I just hope that it has given us all a pause to reflect on the unsustainable nature of the business. There is a rapid growth in eco-friendly shopping . The global fashion search platform 'Lyst' found a 47% increase in sustainability-related keywords in user searches.
Retailers are responding, with big fashion names like ASAO, Prada and Doc Martens' vegan range making changes to their packaging, production and materials.
What better way could there be to cut down on all this consumption though than by making do and mending? There is a trend now for visible mending inspired by the tradition of Japanese Boro stitching. It is officially 'Boroboro' which means 'rags or tatters'!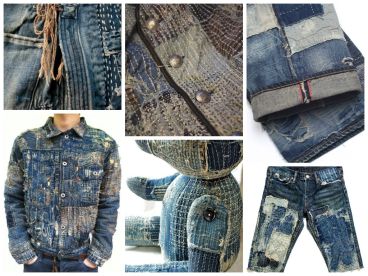 A repair becomes an opportunity to add patches and stitches in a way that enhances its beauty. You are rescuing the item while making it more cherished and personal. Boro philosophy embraces our imperfections- none of us are perfect…and neither are our 'stitches'. Instagram and Pinterest have some fabulously creative examples!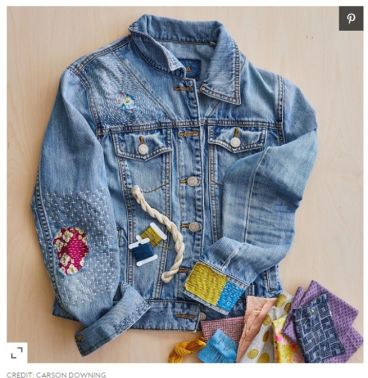 So next time you spill red wine over your top or you find a hole in your favourite jeans don't be dismayed… think Boroboro... and you have the power to save the environment, stamp your personality on your wardrobe and of course post on Instagram/Pinterest!
Have fun and happy stitching!
Love Kate x